Berlin 2015: Top chess in Moabit
Joining the crowd of the World Blitz and Rapid Championship 2015 in Berlin with some cameras. Also check out the ► gallery with 100 of the best photos.
The rush is enormous. Berlin wants the Blitz stars – spectators cue for more than 45 minutes to get into the playing hall. Magnus Carlsen has come to defend two of his three world titles. The elite is going to fight for the World Cup on 94 boards.
Nobody knew that such a huge event location is available on Turmstraße. The Bolle Meierei is such a voluminous venue. Across the street at the Berlin State Office for Social Affairs and Health, the refugees are cueing for hours, some for days. On our side, Peter Leko rushes into the player entrance with a KaDeWe bag. Vasyl Ivanchuk observes the hustle and bustle on the largest shopping street in Moabit, a central district of Berlin.
Finally we're in. On stage, Carlsen always plays on board one because of the Norweigan television network NRK. The spectators are crowded in front of the tables, but cannot see anything. There are also no demonstration boards and no information on who these players are.
There's nothing to see
Everyone wants to see the World Champion, but will they also recognize Pedrag Nikolić, who is facing the 24-year old Carlsen in the first round? And do you also see how the veteran is smashed after 22 and turns off the clock? Nobody gets it. If you want to see something, you have to look at the other boards that are set up to the left and right of the aisle. Pairings and results, however, are in short supply for spectators.
A photographer from the big german news agency dpa takes the MkIII with the 70-200 out of his inconspicuous rucksack in front of the crowd of spectators and it goes quietly "shk-shk-shk-shk" after he keeps pausing for a moment. After 15 minutes he has the job done and he says he has to go to six other appointments. My family has seen everything and leaves me alone. So let's get behind the barrier!
Moves by MissLovaLova
I see Maria Emelianova for the first time and I am fascinated. Smoothly she is stalking through the ranks and is not afraid of contortions if the perspective requires it. In no time I discovered new moves just by watching her. She is fun to work with. A year later, Sergey Karjakin will hire her as his personal photographer at the 2016 World Cup against Carlsen in New York. So, those photos I'd love to see someday!
Maria just leans her expensive lenses without a cover against the wall under the heater. I can't do that and even have a cable lock on the trolley, but she has my admiration. "Nobody takes it", she whispers in a dark voice. When she speaks like that, I want to believe everything. A year later in New York it went wrong and her noble 85/1.2 was stolen.
The anti sniper
The next day another colleague from the dpa is present. He has a 400mm howitzer attached to a D4s and it works like Pepe Cuenca's "RATATATATATATATA" in ► continuos mode. The colleague probably doesn't play chess.
Just for the sake of pleasure, I also have two analog sets with me. With the F5 and the 85 I portray Carlsen and take his picture before another round starts: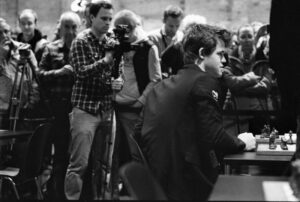 During a break, there is this scene with Kodak Tri-X:

Before the start of another round, I am standing in front of the 19-year-old Daniil Dubov, I noticed him for the first time when he scored against Vladimir Kramnik, then against Anand and later against Ruslan Ponomariov. Three years later he was part of Carlsen's team in the World Cup match against Fabiano Caruana.
You might not know what a Hasselblad sounds like when you press the shutter button. ► This clip demonstrates the sound only in a gently way. But actually it goes KA!-FLAPP!! It's a bit unusual subjecting a top class chesss player to this sound when he is concentrating on the upcoming round, but Dubov takes it calmly and actually likes the photograph.
In general, all these professionals are pretty relaxed, only Alexander Grischuk is stressed because everyone wants to talk to him, even if he prefers to concentrate. On the first day his results were below expectations, on the second day he took the title. Kramnik, also got off to a strange start and joked about it with the NRK presenter. "Actually I am quite decent in Blitz chess", he says. He can't explain his underwhelming start at the moment. But next day he will end up third.
Emotional matches
Magnus Carlsen doesn't take it easily when he loses to Radjabov, Ivanchuk and Grischuk, of course, NRK filmed everything. Unfortunately, Evgeny Tomashevsky was not filmed when he was subjected to the Hillbilly Attack by the World Champion. Carlsen had no hopes to defend his title in the final round anyway.
Alexander Morozevich doesn't feel like laughing at all. He ends up somewhere in the midfield – he's sick, he says. The Muscovite rarely looks happy, but a dark cloud has settled on his face. I only have the analogue with black and white film in hand when Anand tries to say hello. Moro is out of reach these days.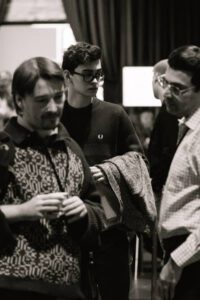 Before the fifth round, Carlsen hurries down the aisle at a footballer's pace and is heading for the stage. He is about to play against Tigran L. Petrosian. I have been waiting for this moment and adjusted the extreme wide angle lens to six feet. Then things happen very quickly, Carlsen is just coming up the corridor and he is almost already literally standing in front of me, but I got the shot. With a football player's movement, he is passing me elegantly in a hurry and he's gone. In the picture it looks like he's still a bit away, but that's the wide angle effect.
The wild bunch around Adhiban, Sethuraman, Sasikiran and Vidit is particularly in a good mood. Peter Leko drops by once and Adhiban greets him with "Well, not so easy, right?" and everybody is laughing and in a friendly mood.
Then this picture:
This is me teaching @viditchess how to do bishop & knight mate 🤣🤣. #worldrapid&blitz2015 https://t.co/DFAMHBI7xz

— Adhiban Baskaran (@adhibanchess) November 10, 2020
On the way to the player's lounge, David Navara is standing at the window browsing through a Russian Chess Magazine. Motylev, Karjakin and Lagno are relaxing on the sofa, former german federation chief officer Horst Metzing is serving coffee at the counter and Maxime Vachier-Lagrave is chewing on an apple.
Later Iepe Rubingh comes around and Mr. Chessboxing with his sparkling aura is spreading a lot of humor. Of course, the creator of the "Intellectual Fight Club" gets a selfie with Carlsen and posts it on Facebook:
"FOUND A NEW FIGHTER. JUST TOOK HIM UNDER CONTRACT! WHO WANTS TO FIGHT HIM?"
On the other side, in the lobby for the audience, Jan Gustafsson explains what is happening on the boards and then there is Kirzan's lobby, for special guests only. But the place to be is the playing hall where everything is buzzing.
* * *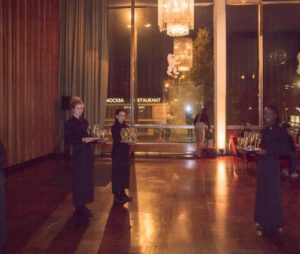 The night before, at the opening ceremony at Kino International we were upstairs in the foyer, where "The Queen's Gambit" was also being filmed, when two Russian soldiers toast Beth Harmon and she refuses the vodka from the waiter boy.
Boris Spassky is the guest of honor and he even gives interviews, although he looks like he could use a rest. But he's polite and kind to everyone who wants to talk to him. The audience nevertheless keeps a respectful distance.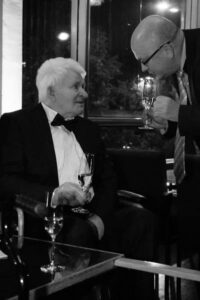 There is even a private screening of "Pawn Sacrifice", which wasn't even showing yet back then. In between I meet Yasser Seirawan and Maxim Dlugy. We are chatting for a moment. They are going to join the tournament the next day. How do they rate the competition? The eminences gather for a brief moment and Seirawan says: "Well, we both were World Junior Champions, so we know how to deal with the Juniors."
Cheers!